Foreword: With Koko Mag coming to an end I wanted to preserve some of the better parts of the project and push them out a little further. So all of the interviews conducted as part of Koko Mag will serve as blog entries, featuring the original published article (with some nice extra bits thrown in) and the tear sheets from Koko Mag.


This entry features Raf Matta, a fashion designer from Melbourne, who at the time was working on a new collection, we sat down to discuss his work in March 2015.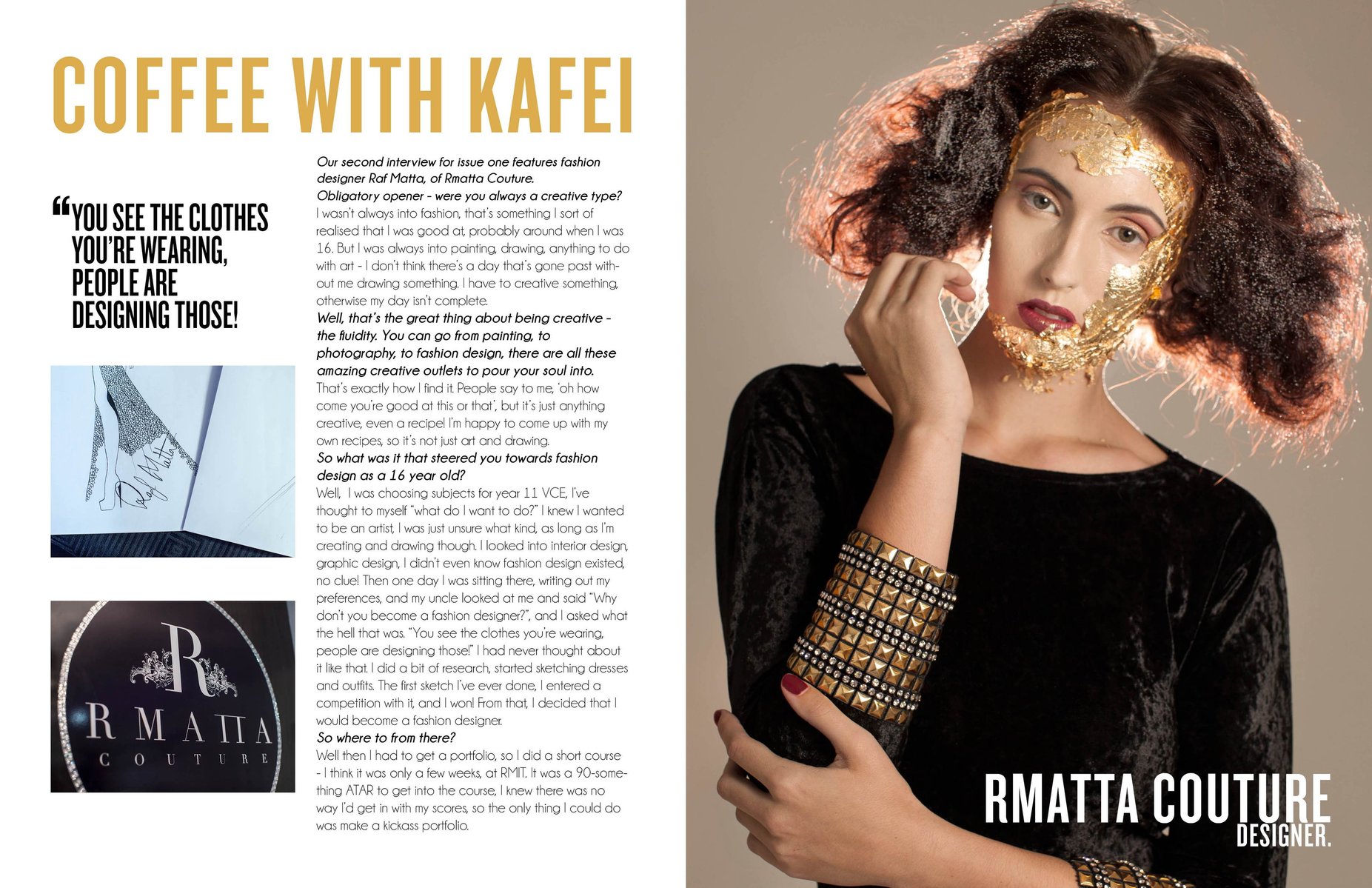 Our second interview for issue two features
fashion designer Raf Matta, of Rmatta Couture.


Obligatory opener - were you always a creative type?

I
wasn't always into fashion, that's something I sort of realised that I was good
at, probably around when I was 16. But I was always into painting, drawing,
anything to do with art - I don't think there's a day that's gone past without
me drawing something. I have to creative something, otherwise my day isn't
complete.
Well, that's the great thing
about being creative - the fluidity. You can go from painting, to photography,
to fashion design, there are all these amazing creative outlets to pour your
soul into.
That's
exactly how I find it. People say to me, 'oh how come you're good at this or
that', but it's just anything creative, even a recipe! I'm happy to come up
with my own recipes, so it's not just art and drawing.
So what was it that steered
you towards fashion design as a 16 year old?
Well, I'd just turned 16, and was choosing subjects
for year 11 VCE, I've thought to myself 'what do I want to do?' I knew I wanted
to be an artist, I was just unsure what kind, as long as I'm creating and
drawing though. I looked into interior design, graphic design, I didn't even
know fashion design existed, no clue! Then one day I was sitting there, writing
out my preferences, and my uncle looked at me and said "Why don't you
become a fashion designer?", and I asked what the hell that was. "You
see the clothes you're wearing, people are designing those!" I had never
thought about it like that. I did a bit of research, started sketching dresses
and outfits. The first sketch I've ever done, I entered a competition with it,
and I won! From that, I decided that I would become a fashion designer.
So where to from there?
Well
then I had to get a portfolio, so I did a short course - I think it was only a
few weeks, at RMIT. It was a 90-something ATAR to get into the course, I knew
there was no way I'd get in with my scores, so the only thing I could do was
make a kickass portfolio.
And you made it into your course afterwards?
Yeah, I remember walking into the interview, and seeing about 900 people, and
in my head I'm like "there's no chance, you're not gonna get through,
don't get your hopes up". I did my interview, showed them what I've done,
told them I'd only been doing it for a short amount of time. I think they were
surprised by what I had achieved in one year. Even the knowledge, looking at
other fashion designers and what they had achieved, and their journey to where
they are now, it's full on. I felt like it's this different world that I wasn't
aware of. The course ended up running for five years, very full on. But I said
to myself, "I have to do it", heads down, ass up, that's it. I
remember the day I graduated, I was thinking that it was all a dream, I never
ever thought I'd graduate.
Especially six or seven years ago, from "what's fashion
design?" to do that much.
By then I sort of wanted to go out, and experience the world too. I didn't want
to get stuck. So I made a plan, to go out, and make money. You need a lot of
money to start your own label, it's not easy. I remember, I started as a
kitchen hand at Red Rooster - I did that for about a year, when the manager
pulled me aside and offered me a promotion, so I'd entered into a manager role.
So everytime I said "this is it, I'm gonna quit," something would
happen and come up, so I always said okay. That happened with all the jobs I
had. I know I'm dedicated, if you put me in anything I'll always give 150%.
Eventually I ended up training all the states of an apprenticeship centre I
worked for. I was open to that, always up for it. But in the back of my mind
was the fashion.


And it's quite easy to get disillusioned at that point, once you're in a stable
job, there's money coming in and life is going by - I think that's where a lot
of creatives get caught off, you can just slip into it because it's steady.
Yeah! So I said I'd do that for a year and a half, but then they wanted to make
me business consultant. So from one promotion to another, and another. A year
later, we lost the Victorian contract, so we were all redundant. So I said,
"is this my chance to go back to fashion?" All the time, I'd still
been doing fashion, just part time. I'm nearly thirty now, and sometimes I feel like I've wasted
time, like I should have started the fashion thing earlier, but I don't know,
it just didn't happen. I just feel I could've been somewhere more now, if I had
taken a different path.
Well you're where you are now for the choices you've made - every decision has
come together to bring you here now.
Yeah I know. My parents are a huge inspiration for me because of the decisions
they made. We moved here, 1996, and they had to give up everything. I don't
think I'd be able to do it, and if I were in their shoes, no way could I do it.
I've got my career, my family, friends, my whole life. To give that up for your
children, I think that's huge.


That is an incredible thing to do, to be that selfless, and live to provide
your kids with the best opportunities.
Yeah, exactly. To come here, with no job, to start from scratch… It makes me
work even harder, that they did that for me. So they're my huge inspiration.
Obviously there are others, music, my clients, nature, history, my background -
coming from Egypt, it's all about history and culture. That's what I think
makes me unique in my design, I try to mix European with the Middle East. I think
that's what makes me different to everybody else.
Definitely, Egypt is such a rich culture steeped in history. Could you give me
an example of your clients influencing you?

Well usually the way I do things, I sit down, and I can sort of tell by their
personalities. There's a lot of inspiration there. My recent purple gown (made
for a Ms.Universe entrant), she loves mermaids, that's why I've gone with the
glittery fabrics, and the mermaid tail.

Yeah! Now I can't unsee it, there are fins, and even the netting evokes scales
or fisherman's netting. That's great, each piece is individual, tailored to the
person. Now I know it's a
mermaid dress it's even better!
I should just call it the mermaid dress.
You could, everybody
loves mermaids! So you did say music inspired you, what sort of music?
I listen to everything, R+B, techno, rock, anything,
anything.
Any specific artists
you love?
Mariah Carey.
Ah Mariah, the
elusive chanteuse.
I just remember coming to Australia, I didn't know one word
of English. I started listening to her, and that's how i picked up the
language. I loved her music, didn't know a word, just sung along to it. I don't
know, something about it.
Something just caught
you. Nice, any movies or tv shows?
Tv shows.. friends, i love friends
Does that inspire you
at all?
Not really, but its fun to watch. Takes my mind off things
when I'm stressing out. It can be good to sit back and relax, theres a new one
out now, Empire, love it. It's American, I'm into that one now. Movies, there's a
few movies i like. One i absolutely love, i know a lot of people hate it, Glitter, by
Mariah Carey. It's about her life story.
Oh yeah, I know the
one.
So not a lot of people know about that one, and the one's
that do know about it… don't like
it. But it could just be because I'm
obsessed with her.
Yeah you do seem a bit
bias towards Mariah Carey!
Could be just that, but i love it!
So she's a big
inspiration?
Definitely.
We do have to end this on an inspirational note, so if you could offer one
piece of advice to artists, what would it be?
You know, if you're passionate, go for it. There are people who will try to put
you down, don't let them. Just be yourself, don't change for anybody - just be
unique, and follow your dreams, you never know, dreams do come true!

www.rmattacouture.com

@rmattacouture
http://www.magcloud.com/browse/issue/898937