Wow, December already! To celebrate 2014, we're looking back at the year that was, with 20 favourite images that defined Kafei White through the year - going month by month with 12 mini blogs!
December 2013 and January - Last year ended with me abroad, travelling England, Wales, and Japan. I worked with a lot of amazing models/makeup artists/hair stylists/designers while travelling - creating editorials like 'Winterblue', 'The Invasion', 'The Whispering Forest' and 'Golden Fall', while also working on an architectural series 'LDN'. I also got to spend a lot of great time with good friends, learning about wildlife photography from Norfolk Through The Lens, and photographing beautiful Japanese landscapes with Yuko Yamada. Thanks to everyone who made that the wonderful experience it was!Oh, and a fair few images from 'LDN' were shared on Vogue Italia's PhotoVogue, which was nice!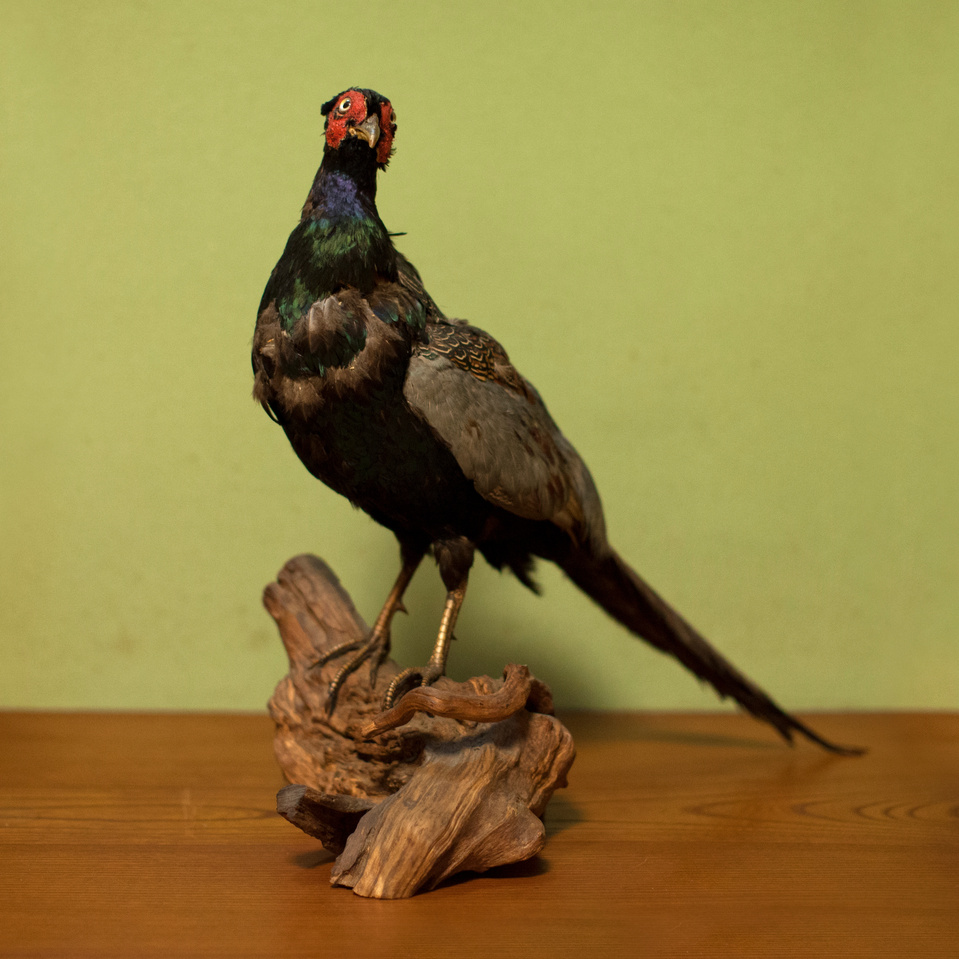 February - Colony in Space was shot in February - and also feautured in February's 'Like a Lion Magazine'. This shoot was some serious fun. After some not so great false starts, Selby and I took it into our own hands to style the fashion, do the makeup, and style the hair. The hair was crafted from an old (ridiculously shiny) party wig from a $2 shop - which I spent weeks deliberating over, perfecting the colour, the style, as well as getting rid of the shine. The editorial featured Selby Staynor, playing a few different characters.
The story was that of an alien race of near identical women, the main distinguishable feature being differences in the hair (so some had green bits, or pink bits, or just green hair, or plain blue hair!). They'd come to land on this beautiful, uninhabited (yet long ago inhabited) planet, after life on their home planet no longer became sustainable - so it featured lots of wacky coloured plants!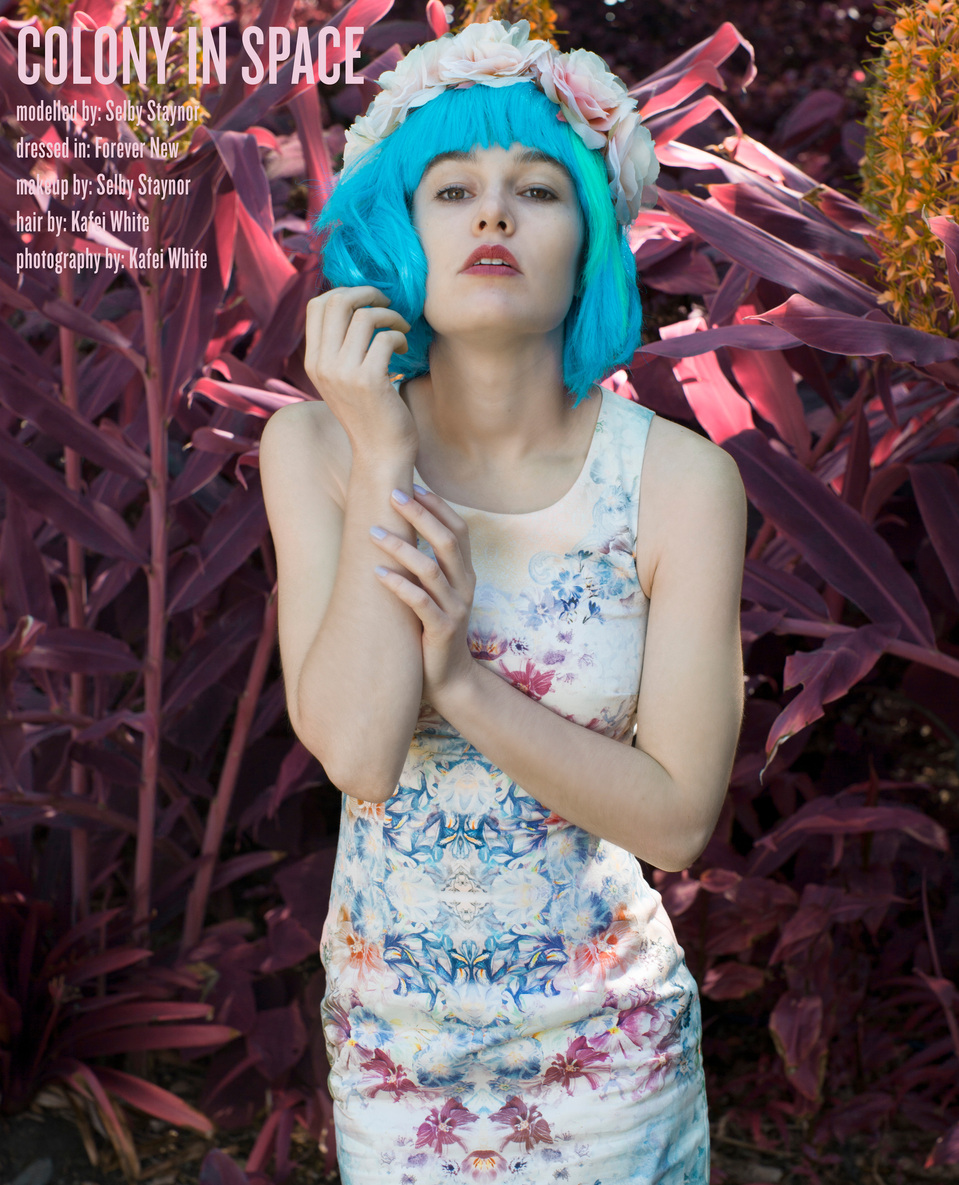 March - This month saw the creation of both Waterborne, and Picasso Sunrise. Waterborne was featured on Moustache Magazine, along with a small interview with Kafei. Waterborne was shot down at Sorrento Back Beach - and nearly killed us both. Matt left with WAY too many battle scars, and I was deathly ill that night (suspected cause - too long studying rotting seal corpse on the beach). It also featured the world's greatest vintage swimming trunks, in this dazzling dodger blue colour - the downside being all the photos were black and white in the end!
Picasso Sunrise was shot in a pool, where we were able to control the water, and create some beautiful abstract portraits.
March was also the month in which I'd organized a HUGE studio day; 9-5; 3 shoots; full teams for the entire day. After a disastrious start (by no fault of anyone), Sharp, POP, and KLIMT were all born - out of the dedication and hard work of all involved.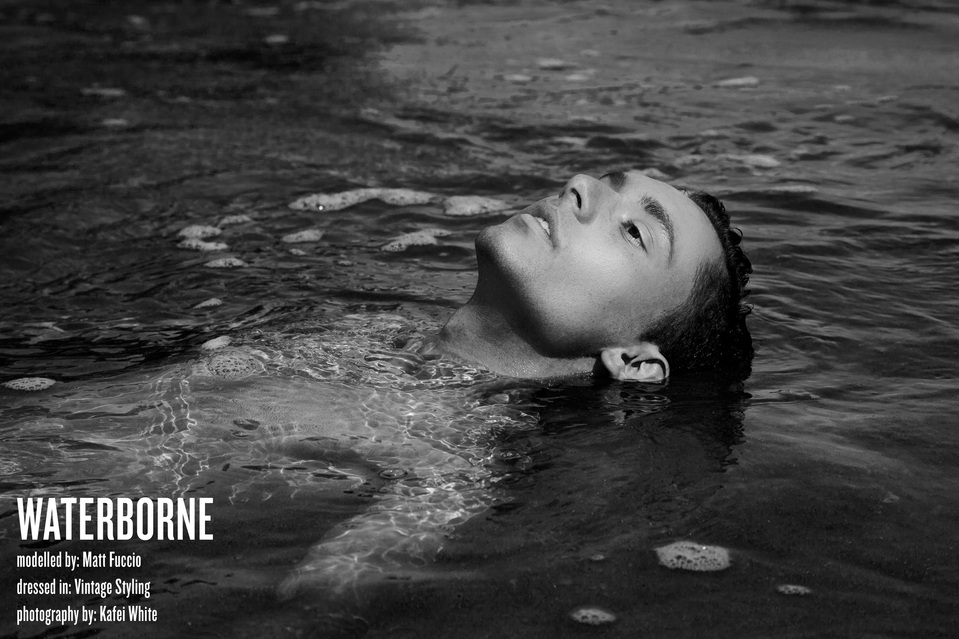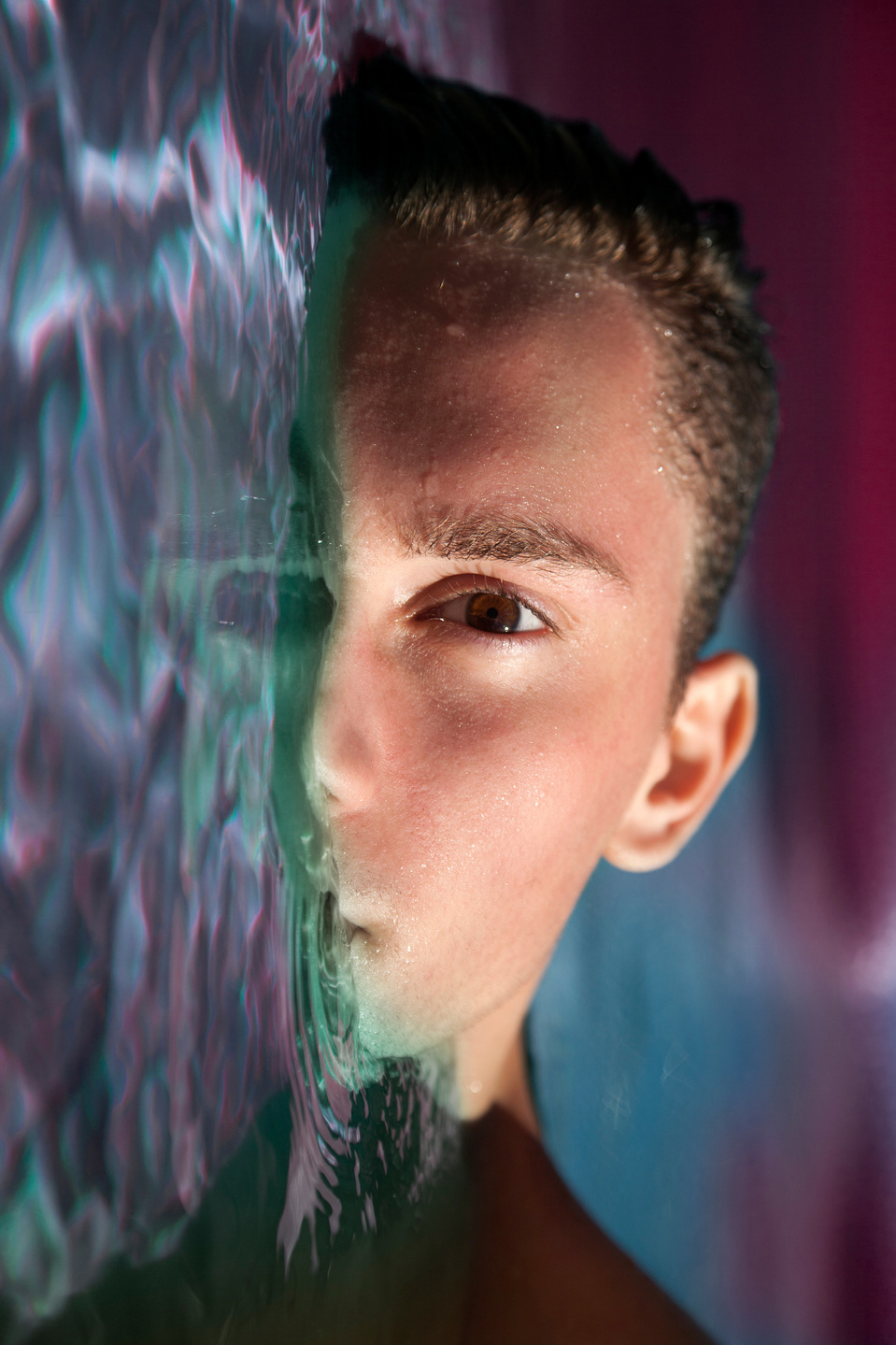 April - Winterblue was featured in Like a Lion, as well as Vogue Italia - the editorial was shot on December 1st, in a park behind a church in Soho, London. I'd sussed the location out a few days before - it was this odd little playground - but everything you'd expect from a British playground, it was so dreary and miserable. As soon as I saw the baby blue wall, cracked and peeling revealing the soft browns beneath - I knew I had found an amazing location. It was nestled between these ugly 80s apartments, and an old church, and was tiny. The day we arrived to shoot, there were signs taped to every bar saying the playground was to be torn down on December 2nd…… so I'm feeling pretty lucky! (And all I was trying to do was find Forbidden Planet to buy a Dalek.)
Maniac 1 was also shot. This was my concept and original plan for my RAW show in May…. If you missed the blog on that one check it out here.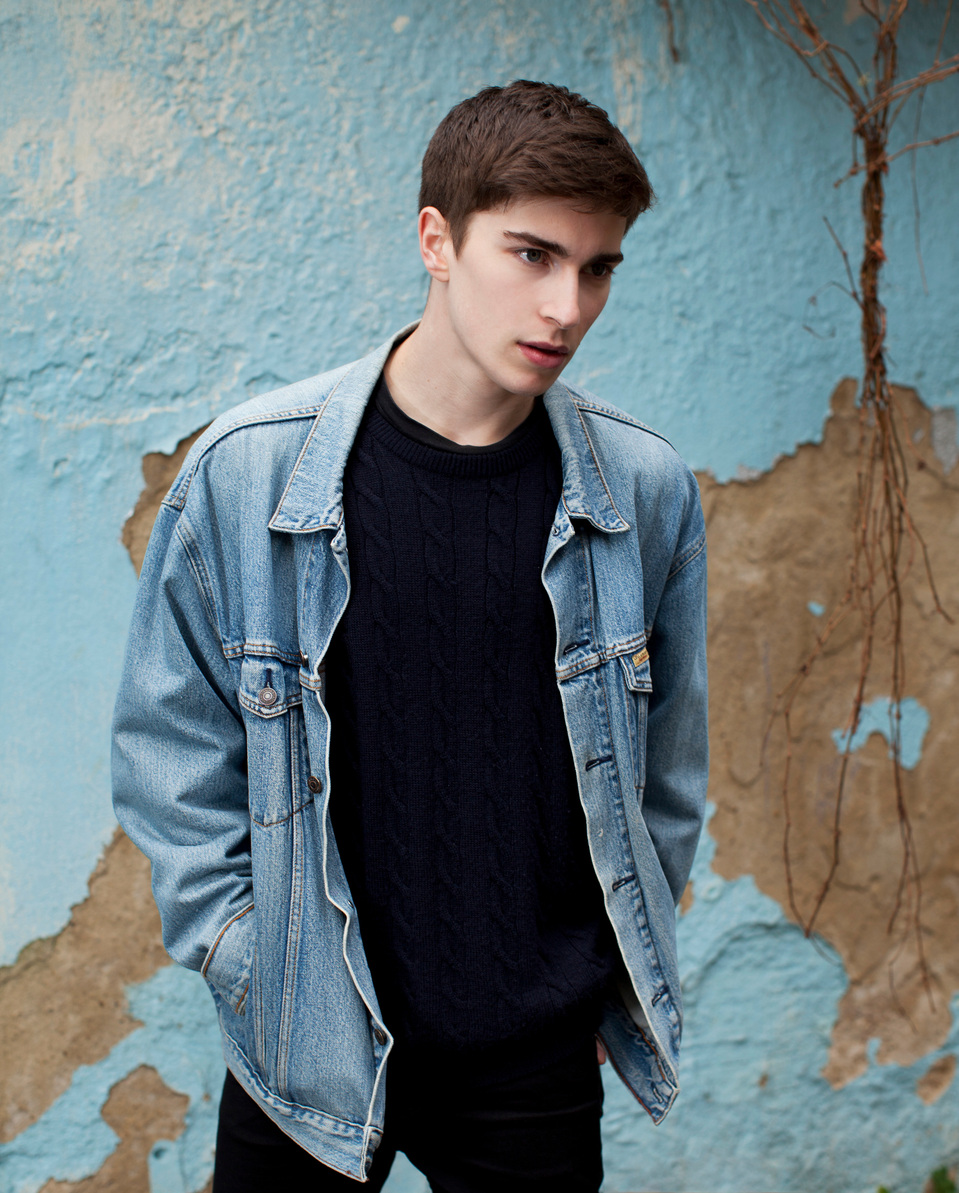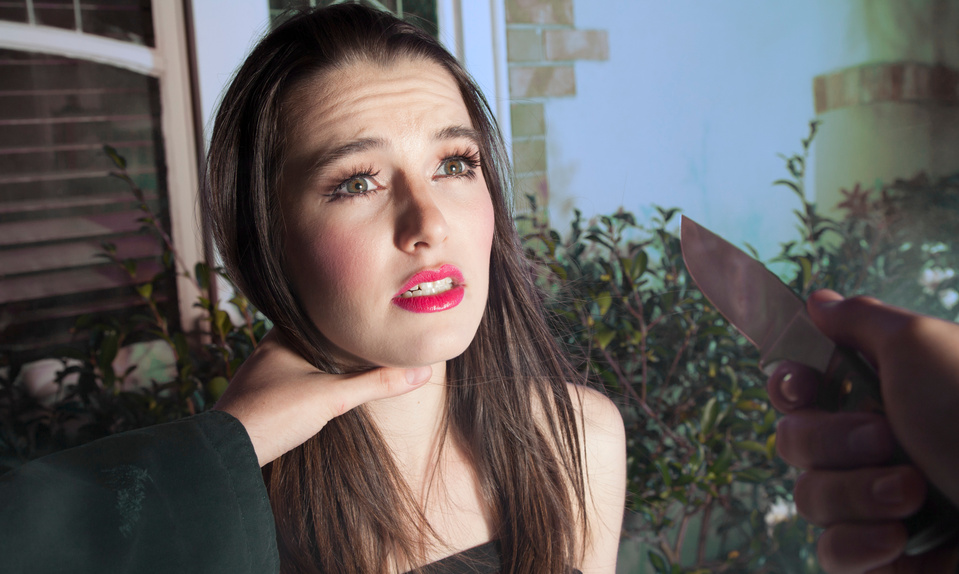 May - A huge month! The RAW Artist show took up most of May, preparing and stressing out about which works to use (and then printing them, framing them, hanging them, all the fun parts!).KLIMT was the eventual piece I perfected for the show.
POP made it's debut, featured in Ruby Red Magazine.
Paradise was shot.
The RAW show also saw the blog, and the mailing list begin. Thanks to everyone who came to the show, everyone who read the blogs, and everyone who has subscribed to the monthly mailing list (Hit subscribe on the left if you've not done so yet)!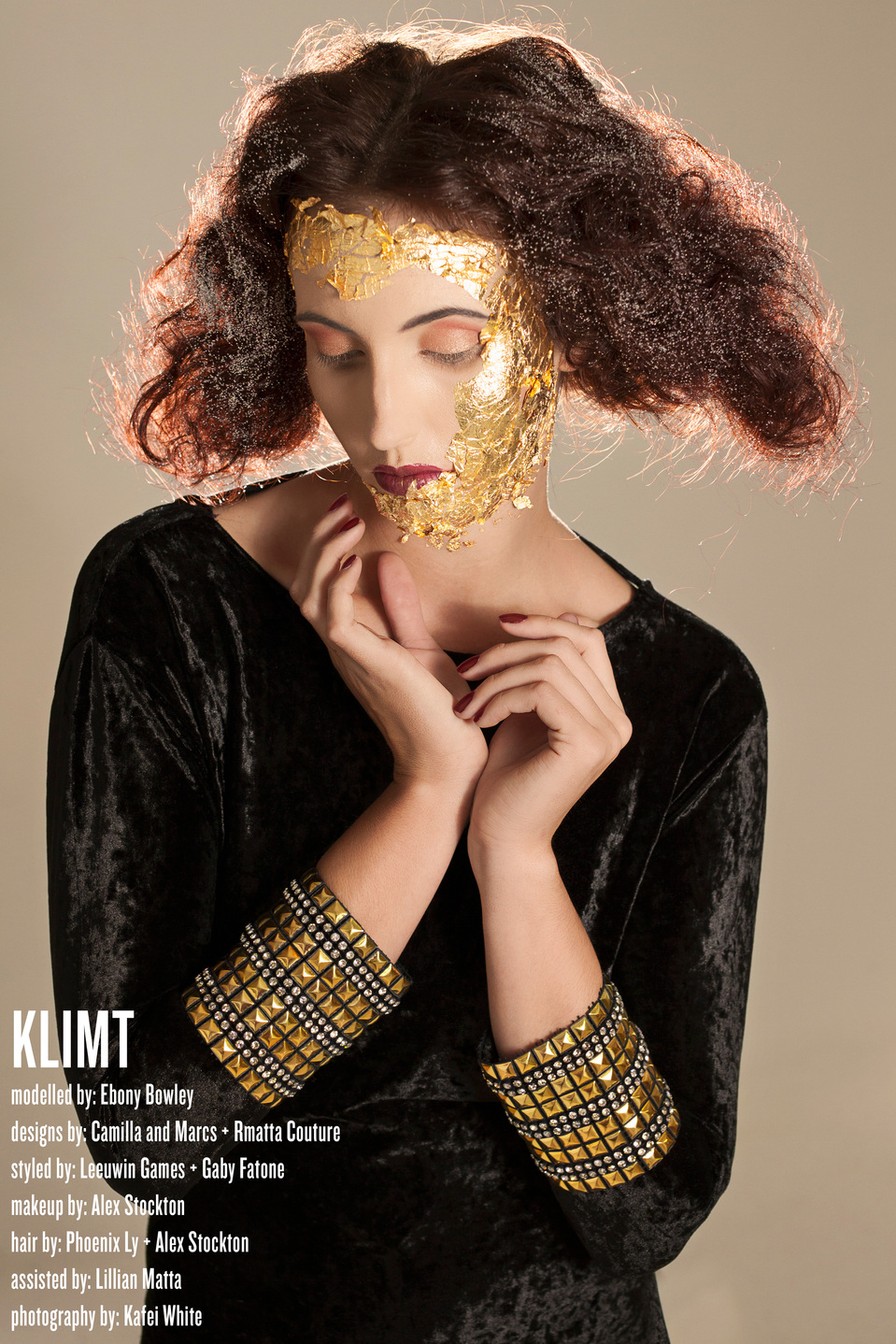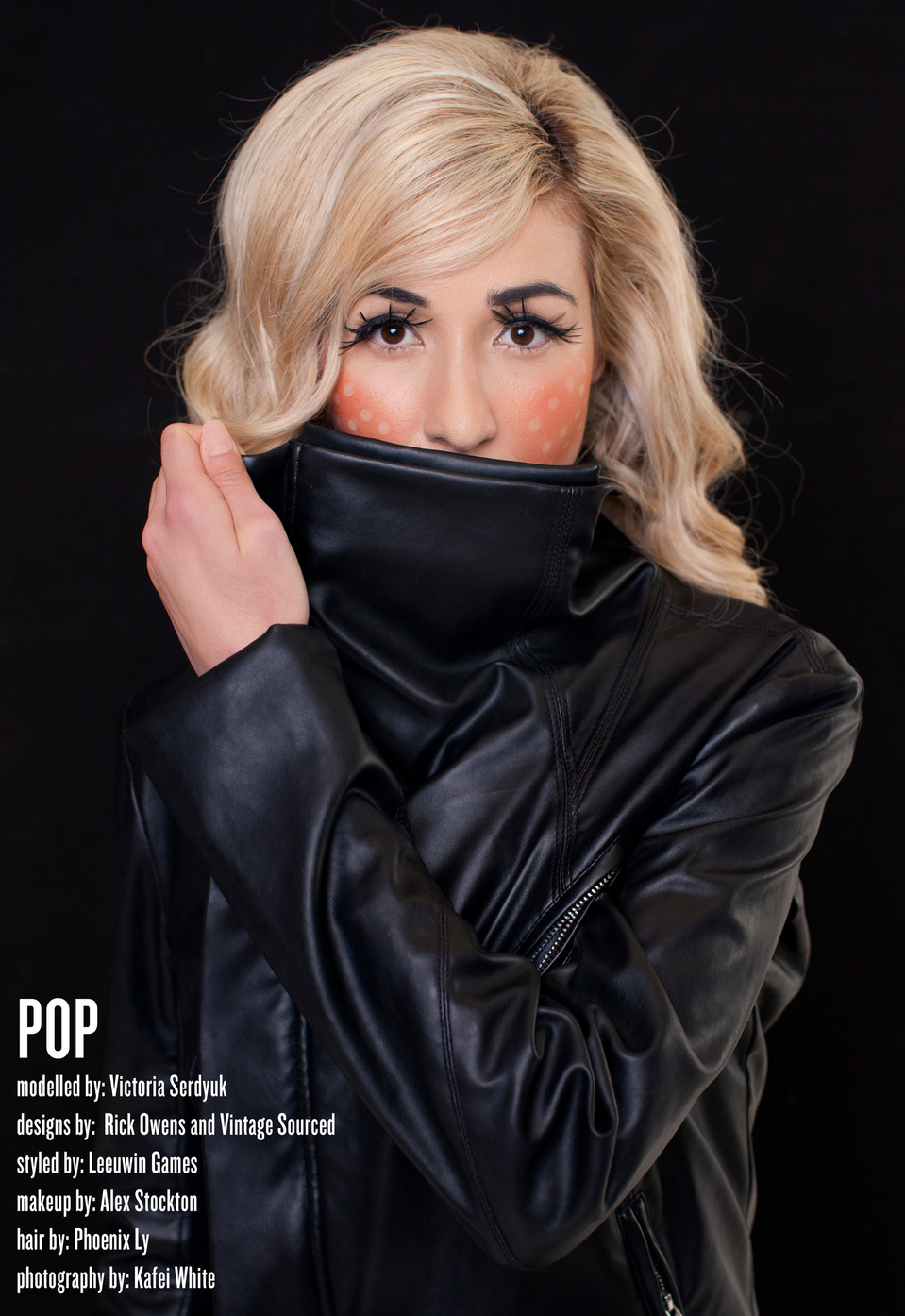 June - Paradise was featured in Promo Magazine this month. You can read all about creating that shoot here.
Shades of Cool was also shot this month, on a freezing June day.
RMATTA's Fancy collection was also shot in June.
I also collaborated with Madeleine Grace Makeup Artistry to produce some beautiful (and sadly untitled) portraits, that I'm especially fond of.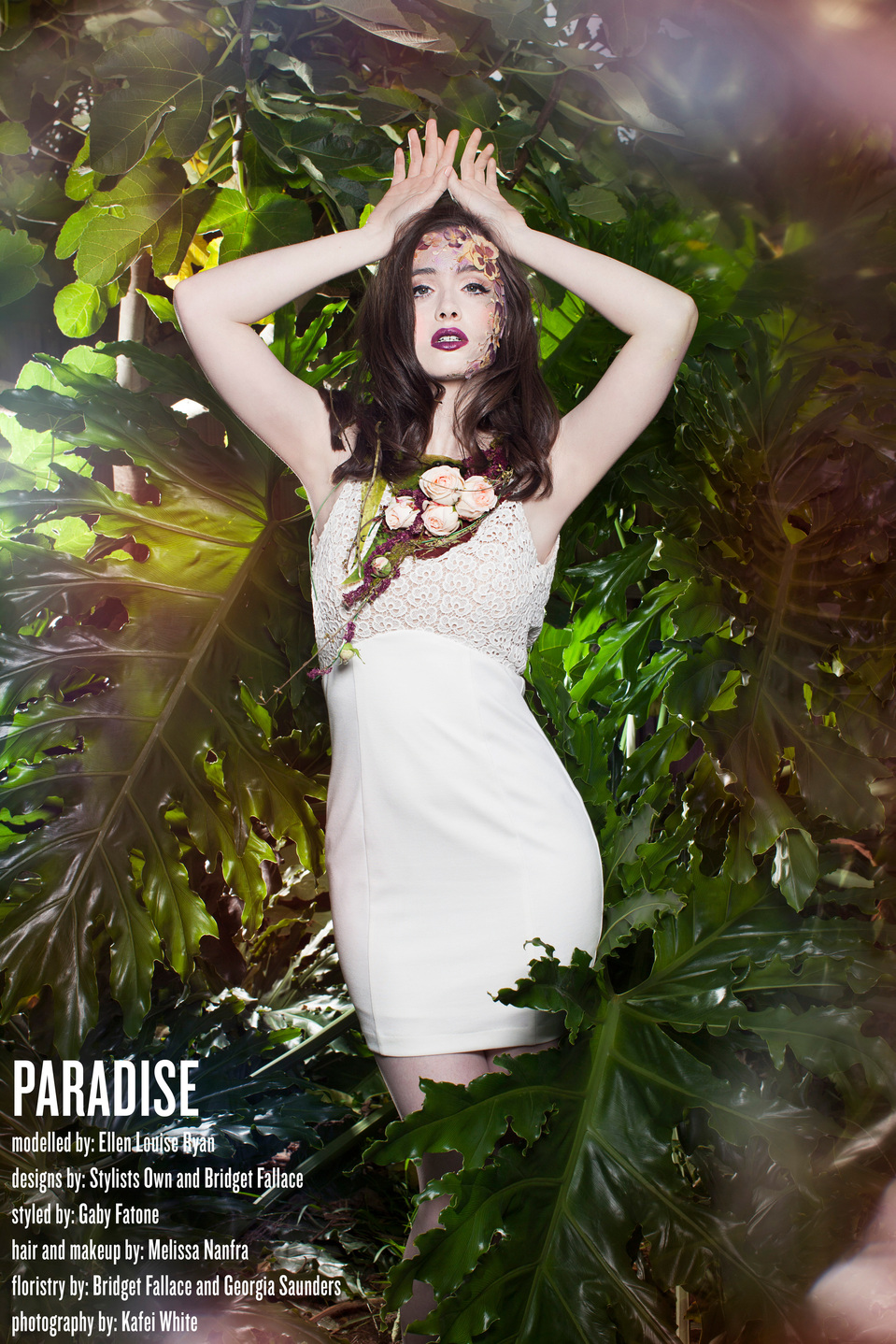 July - ValeDecem received a feature in Thrill Magazine. This shoot was part of my Doctor Who 50th Anniversary celebration series, with Kade Neale as the Tenth Doctor (and me as Eleventh) - but I won't say too much about it, as you can read about the adventure of the Two Doctors here.
July also saw the production of Cool Enough, a second-part collaboration between Alex/Charley/Kafei/Samii, featuring Tom, and following on from Shades of Cool.
Cool Enough featured in August's blog entry, so check that out here.
August - Another month, another collaboration between Alex/Charley/Kafei - this time in the form of editorial Red. This shoot was great fun to make, Charley came to us with the concept and we ran with it.
RMATTA Fancy Collection launched during August too - you can catch the behind the scenes video here.
Sakura Dreams - a new collaboration between Selby Staynor and Kafei White, shot entirely on 35mm film - was shot.

September - Monument was shot during September - with Selby Staynor and Alex Stockton. The ending result was featured on Vogue Italia's PhotoVogue. You can learn all about the creation of that editorial, as well as it's influences at the blog.
The mystery musician shoot also took place during September, and was the biggest shoot of the year. A huge full day of shooting between a 3 person team. Countless hours of production, a huge effort from all involved…. You'll hear more about it when the campaign begins, I'm sure there'll be a full blog dedicated to it - so keep your eyes peeled for it in 2015! (There are some teaser images at the bottom if you just can't wait that long!)
October - The end of September saw Kafei White in Adelaide, where architecture was the main focus - a mini sequel to LDN if you like, affectionatelly dubbed ADL. Adelaide had heaps of great architecture, best of all was the Arts Centre - or as I called it, the square Opera House. Part of this series, Growth, featured on Vogue Italia.
October's blog saw a trip back in time, to December 2013's The Invasion editorial, shot on location across from St Pauls Cathedral. Read all about it, and how it (clearly) inspired Doctor Who Series 8 here.
November - Shades of Cool finally saw release - featured in Delicious Dolls' Tattoo themed issue. The month's blog was also dedicated to the behind the scenes from that shoot.
I also worked again with the wonderful Memphis Black, creating a series of colourful images - which are to be published in 2015, and we're super excited to share with you all! (You know there'll be a blog).
My Bird Portrait was also released after hiding out in my harddrive all year - and was featured on Vogue Italia's PhotoVogue too!
December - A lot of reediting of 2013 work, and a complete reshuffle of the website - more images over fewer pages. Two reworked images (Methamphetamines, and The Beast Below's Burning Desire) featured on PhotoVogue.
I also had the absolute pleasure of again working with Sacha Reeve - working together in the studio on a very moody, black and white editorial. This set will see release in 2015, we're thrilled with the images and hopefully you will be too.
This obviously concludes 2014's run of blogs - but look out for much more to come in 2015!! Have a happy, and safe holiday season!
Kafei.

P.S.
To celebrate the New Year, Kafei White is offering 20% off all (non-commercial) orders quoted between Dec 25th and Jan 1st - and as a bonus for those who order, you'll also get $15 off your NEXT purchase.
The sale begins TODAY for blog readers, so be sure to mention the blog if you're requesting a quote for your early 20% off.
Only quotes requested during that time frame will be discounted, and all discounted shoots are good for any set date before June 1st.
Email hello@kafeiwhite.com to request a quote.